Thursday, May 31st, 2012
Hi, Gabrielle here again for another Top 5! Most of you probably know I spent the last week in New York City for Blogfest 2012. Blogfest was a pretty impressive event in itself (in fact you can read my detailed review here), but the highlight was definitely visiting the Kips Bay Decorator Showhouse.
Kips Bay occurs once a year to raise money for the Kips Bay Boys and Girls Club. Each year, 20-30 of New York's best designers are selected to decorate a room in the famous Kips Bay brownstone. The house is then open for visitors for a month in the Spring, and all proceeds go to the Club.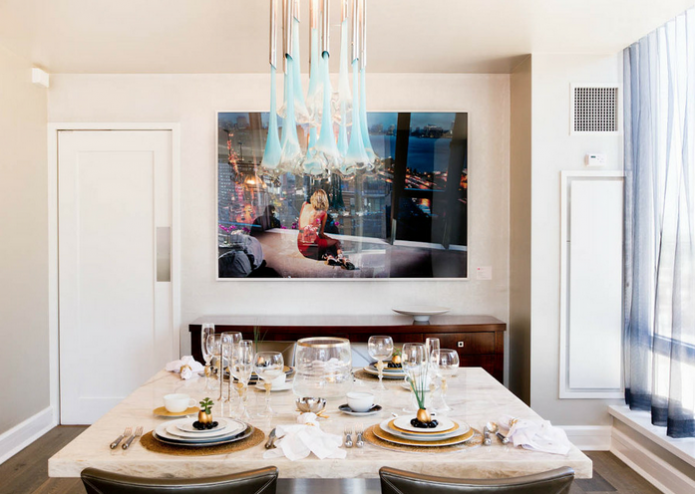 This year was a bit different since, as rumours suggest, the brownstone was sold prior to the event, and the house moved to the 21st and 22nd floor of the Aldyn Building, a new glass construction on the Upper West Side overlooking the Hudson River.
The change in location sprouted a few main trends at this years event. The first trend I noticed was that designers were concerned with trying to retain a feeling of homeliness despite the large walls of windows and lack of structural character. To that end, many of them didn't seem bothered with blocking the view with furniture or even art!
If you ask me, blocking a bit of the view is OK when you have so much of it!
Second, the wall and ceiling textures. A few of the designers mentioned the need to get creative in order not to have the place look like the white box it actually was. The result: lots of wallpapers, grasscloth, silverleaf, wood panelling, lacquered walls and ceilings, you name it, it was there!
Third, as you may have noticed so far, blues greens and yellows were everywhere! From royal to aqua, from kelly to moss, from mustard to citrine, these colors dominated this year's showcase.
There were endless amounts of rooms in this place but I want to share my top 5 with you today.
"The Library" by Jamie Drake: I'm not sure I really need to justify myself here: kelly green grasscloth walls, bright jewel tones, weird but fun geometric antiqued mirrored chair. Off camera, the room also had silverleaf ceilings (my favorite), and a giant floor-to-ceiling and wall-to-wall kelly green built-in bookcase.
" A Collector's Bedroom" by Alexander Doherty: I've already featured this designer on my blog following Kips Bay because this room was to die for! A coral lacquered credenza, wood paneled walls, a art collection to rival the Guggenheim (ok maybe not, but close), a fur blanket, soft sisal carpeting, this room had it all!
"Le Bureau Privé" by Raji Radhakrishnan: A lot of the rooms I was drawn to had very neutral palettes, like this office below: creams, browns, peachy tones… The ceiling was finished in venetian plaster, the linen shades looked soft and were letting the light in, and the art was the statement of the room.
"The Lounge" by Shawn Henderson: I have to give mad props to this room for having a swing! And a comfortable looking one at that. Can you imagine anything more fun than going off to your private quarters to sip on champagne and hop on your swing (ideally not in that order)? Ok, besides the swing, the walls were such a beautiful texture and color, it really deserved a spot in the top 5.
"The Bedroom" by Alexa Hampton: I already shared this photo last week so I will keep this to a minimum, but there is no words to really convey how I feel about this room. Besides the breathtaking views of the Hudson River, This bedroom has everything I love and more: lacquered walls, silverleaf ceiling, canopy bed, headboard, sconces, art pattern, drama… I need to make my bedroom like this one day.
So I'm curious, do you have a favorite room? Have you seen the house in person or just in photos?
Until next week!
Sources: All photos taken by Rikki Snyder 1. Bryant Keller Interiors 2. Coffinier Ku Design 3. Robert Schwartz and Karen Williams for St Charles 4. David Scott Interiors 5. Brian Del Toro Inc 6. Thom Filicia Inc 7. Scott Sanders LLC 8. Drake Design Associates 9. Alexander Doherty Design 10. Raji RM & Associates 11. Shawn Henderson Interior Design 12. Mark Hampton LLC