Best Houses of 2012
Hi all, Gabrielle from Savvy Home here for another top 5. This is probably one of the hardest posts I have to write every year, but also the funnest because I get to revisit all my favorite homes of the year.
Looking at my top 5 from last year on Savvy Home, I can say that 4 houses out of 5 stood the test of time, and that Kate Spade's house remains in my top 3 favorite homes of all times. I'd say that's a pretty great ratio considering that timeliness is probably a home's most important feature… Who wants to redecorate every year?
There were many great contenders in 2012, from a Connecticut home by Miles Redd with the world's best breakfast nook, to Thom Filicia's lake house which is absolutely stunning or Michael S. Smith's NYC pied-à-terre … That being said, I needed to make choices, and decisions were made. Here is my top 5 houses of 2012.
5. The Kelly Wearstler masterpiece. We've all seen it, so much that I'm almost sick of seeing it. That being said, we can't argue that this house was an absolute masterpiece if for nothing else than the library and the dining room. Well done K Dub.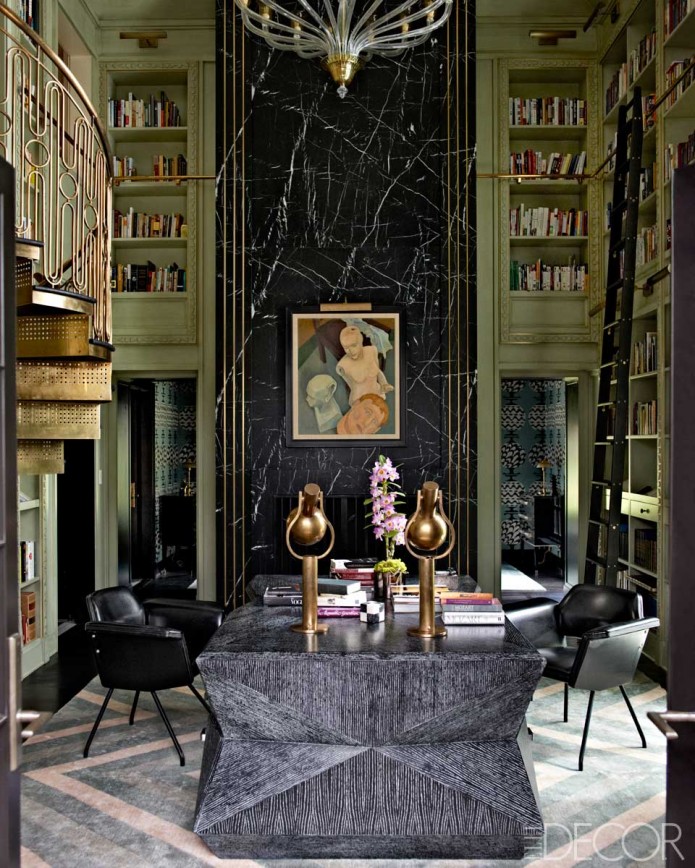 4. Jackie Astier's rock and roll NYC apartment is so glam and textured, it had to make the list. From the faux bois wallpaper, to the beautiful combination of vintage pieces and artwork, it definitely made the rounds!
3. A home by Nick Olsen featured in Veranda magazine takes third place. Every time I imagine my dream entryway, this is the one that comes to mind. The soft blue and green and the subtle chevron floor is simply spectacular. The Oscar de La Renta bed used in the bedroom has also become my dream bed.
2. May Daouk's home in Beirut comes in second place because of the stunning color combinations and the beautiful textures and architecture. It may have contributed to my latest obsession with purple.
1. My ultimate favorite home from this past year is Mark D. Sikes' LA home featured in House Beautiful and then again in Lonny. I literally cannot get enough of the beautiful elegant simplicity of the house, from the thick sisal rugs to the black and white awnings, to the blue and white china collections and everything in between. Besides, I don't think you could possibly do better in the dream backyard category.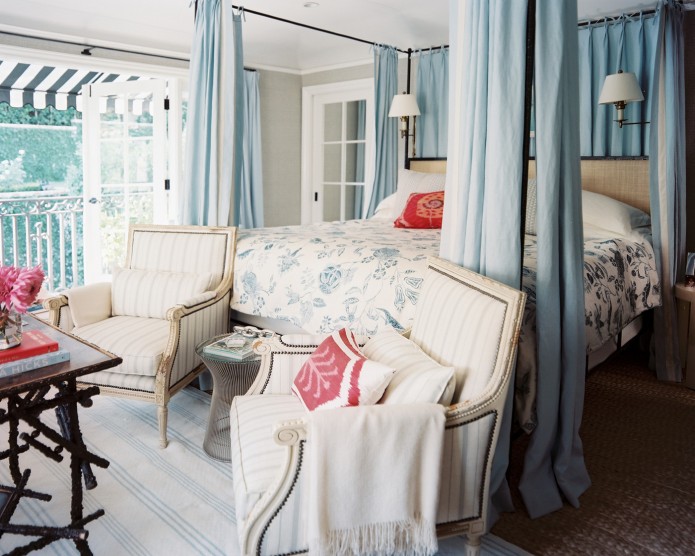 What were your favorite homes of 2012?
Twitter | Facebook | Pinterest | Instagram
Sources: 1. Miles Redd 2. Thom Filicia 3. Michael S. Smith 4. Kelly Wearstler 5. Jackie Astier 6. Nick Olsen 7. May Daouk 8. Mark D. Sikes