Located in the South West of the city's downtown core, this area is fast becoming a trendy spot.
"The Montreal community of Griffintown was a working class neighbourhood situated in the former southwestern downtown part of Montreal. Historically, this area was largely inhabited by Irish immigrants who played a key role in developing the industrial and economic infrastructure that made Montreal an important city for trade and commerce beginning in the 19th century." – Griffintown, Yesterday and Today
St-Henry, the Little Burgundy, and Pointe St-Charles came from similar backgrounds where the industrialization brought in many industries and the workers followed. Proximity to the Lachine Canal, rail transport, made St Henri a attractive place for manufacturers to settle. That same proximity to the Canal is what makes this area an attractive area for condo developers and hipster residents alike.

Source photo : Vanessa Sicotte
The Atwater Market
In terms of year round market, this is one of my favorite one in the city. I am a little biased I have to say, as I used to live a hop away. Besides the fresh produce and meat isles, one can expect to find here all the seasonal greeneries they can think of, from pumpkins to Christmas trees and an abundant choice of flowers in the summer.
Itsy Bitsy is reason enough to come and visit Notre-Dame street. A cupcake meets gift shop, this boutique has been "love at first sight" for me since it opened a few years ago. With flavors such as Earl grey, Mojito, and Orange-ginger, you too will want to stop in and have a taste of these delicious little cupcakes. Also check out their collection of Pantone colored cups and mugs!

source photo: Chic Little City
Recently arrived in the neighbourhood, the H4C – which gives its name to the infamous St-Henri postal code – is the work of architects Marc-André Vallée & Chantal Paradis as well as chef Dany Bolduc. Bathed in a bistro vibe, visit H4C for a delicious brunch or dinner.
******
Petit nouveau dans le quartier, le H4C – qui tient son nom des premières lettres du code postal de Saint-Henri – est l'œuvre des architectes Marc-André Vallée et Chantal Paradis et du chef Dany Bolduc. Dans une ambiance bistro, on y sert des brunchs et des repas du soir alléchants.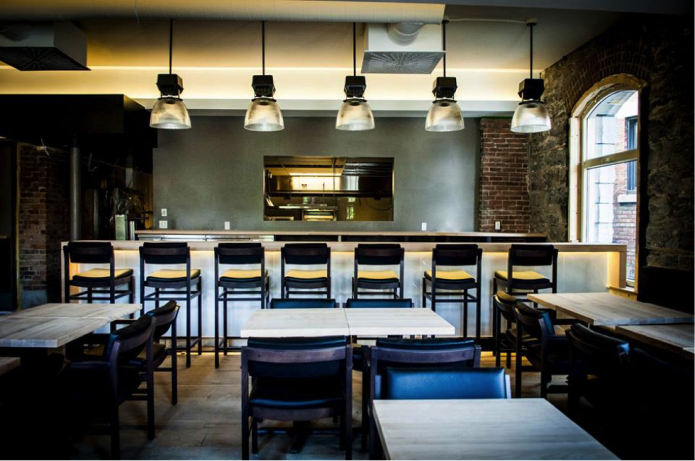 Source : H4C
Nestled somewhere between the warehouses of the city's South West, les Brasseurs offers beer lovers some great brew, 25 in total, as well as homey foods.
A cool pub… English style!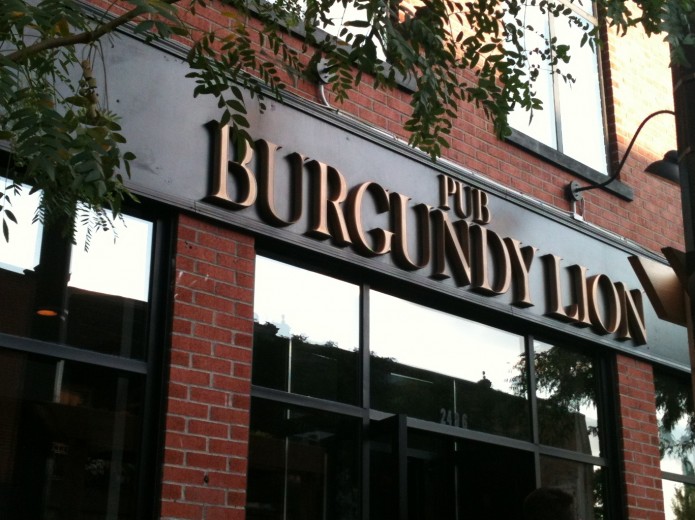 source photo: Vanessa Sicotte
I am maybe no expert but I will venture and say it anyways… BEST burgers in town!

source photo: Salut Ville-Émard
The art of coffee perfectly mastered in this coffee shop & roasting house. You can enjoy a freshly brewed cup of joe at any hour as well as participate in tasting & training sessions.
******
L'art du café est parfaitement maîtrisé dans ce café et maison de torréfaction. Vous pouvez y déguster plusieurs variétés à toute heure du jour et même participer à une séance de dégustation ou de formation.

Source : Micro Torréfacteur
"A classic in the heart of Little Burgundy. An homage to Charles "Joe-Beef" McKiernan, 19th century innkeeper and Montreal working class hero. A drunken crawl away from the Historic Atwater market. Steaks and seafood." – Jo Beef

source photo: Montreal Nite Life Tours
In a chic meets industrial decor signed by Zébulon Perron, Le Grinder offers everything from tartars & tatakis, to ceviches & carpaccios, and let's not forget their seared steaks for which they are known. I love their "sharing" formula which allows you to taste a maximum of dishes.
******
Dans un décor original, signé Zébulon Perron, le Grinder offre des tartares, des tatakis, des ceviches, des carpaccios et des steaks et pièces de viande grillées ou braisées. On craque pour la formule partage qui permet de goûter à un maximum de plats.

source: Le Grinder
The Satay Brothers cooking is inspired by the meals they Singaporean mom prepared for them and which they make us discover through deliciously spiced dishes. During the summer, their kiosk can be found at the Atwater Market (better come early at lunchtime as the queues can get quite long) and in winter, in their restaurant on St-Jacques st. All year round one of their dishes served with a papaya salad is worth a trip.
******
Les frères Satay s'inspirent de la cuisine que leur préparait leur mère singapourienne pour nous faire découvrir cette cuisine asiatique délicieusement relevée. L'été, on les trouve à leur étal du marché Atwater et l'hiver, dans leur petit resto de la rue Saint-Jacques. En toute saison, un de leurs plats épicés accompagné d'une salade de papaye vaut le détour.

Ludovik is a boutique of its own genre…located on two floors, it brings the customers through different decor moods by walking them through 4 distinct showrooms.
We can find furniture collections, accessories, vibrant rugs, light fixtures and chandeliers, and gifts, all of which are chic, urban, contemporary, and often with a definite sense of humour.
But what renders this little abode truly unique is the fact that it is the city's largest carrier of the New York designer, Jonathan Adler. Inspired by the 1960's, cinema, and the English kitsch "à la Austin Powers", Jonathan Adler puts color in any decor whether it be modern, contemporary, or even classic.

Source photo: Damask & Dentelle
Creation and fabrication of ever-changing and one of a kind antique linens house wares from recycled
French fabric from 19th century. By appointment only… or online, all the time!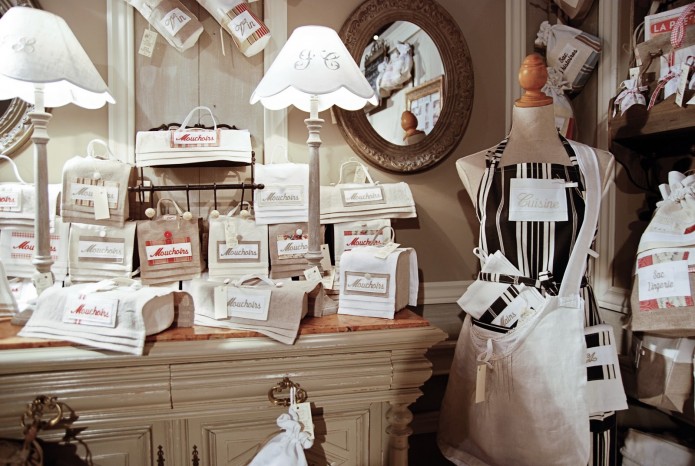 Source photo: Atelier du Presbytère
A lovely consignment store for everything décor, tastefully curated by its owner Lori McGuigan.

source photo: Smart Shopping Montréal
Custom made wall decals and much more. Actually, these guys are so creative that I have a hard time keeping up with all the projects they are involved in. Check out their website.

Source photo: Zanouchka
My "go-to" place for natural and artificial plants. If you are in the area during November and December, you HAVE to go and see their Christmas wonderland. It is impressive and Oh so festive. My kids and I make it a point to go every year to buy a few ornaments or a wreath for the door.
The Little Burgundy & St-Henry areas have been known for a long time as the Antiques quarters of the city. Although the area does not house as many as in the golden years, you can still find some great antiques dealers on Atwater and adjacent Notre-Dame street. Rowtree is one of them. Specializing in Québec's traditional country furniture it is worth a visit.

source : Antiques in Canada
Milord is another one of Montréal's iconic antiques dealer. Its curated collection is unique and has international appeal. You can find Milord on 1st Dibs.
Céladon offers high end quality and timeless pieces whether in traditional furniture, lighting or home accents. Some of the collections they carry include: Barbara Barry, Bontempi, Hickory Chair, Mitchell Gold + Bob Williams, Oly, & Safavieh. They also carry the line of Farrow & Ball paints.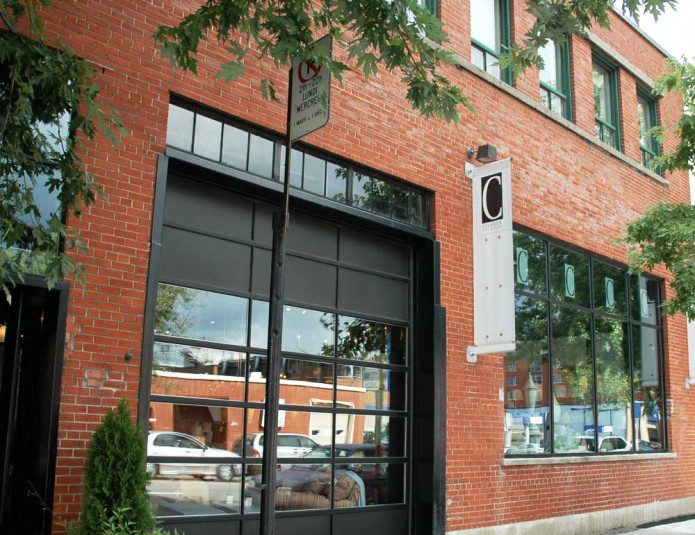 source : Céladon Collection
If you are looking for antique and vintage lamps dating back to the 1880's until today then L'Allumeur is the place to go! Cleaned and rewired when needed the lamps are both unique and a glimpse in the history of decades past. L'allumeur also creates original lamps and chandeliers by up cycling parts of lamps.
******
Vous cherchez des lampes uniques, datant de 1880 à nos jours? C'est chez L'allumeur que vous les trouverez! Les lampes sont restaurées et nettoyées pour leur donner leurs lustres d'antan. L'Allumeur fabrique également des lampes uniques à partir de pièces d'époque.

Source : L'Allumeur
Joyfully eclectic & vintage, this boutique offers furniture, decorative accents, dinnerware and lighting. A trip back to the 60's, 70's & 80's baby yeah!
******
Joyeusement éclectique, la boutique propose du mobilier, de la déco et des luminaires de type vintage et écodesign, ainsi que des articles faits par des artisans locaux… le tout dans une ambiance inspirée et inspirante!

Source : Mixx Authentik
The Brooklyn based decor store & gourmet market has landed in Montréal in an old warehouse of Griffintown. You'll find here all the products from the renown – and loved – American brand as well as curated collections of products from Québec based designers.
******
Originaire de Brooklyn, la boutique de meubles et d'accessoires West Elm a ouvert sa première succursale à Montréal dans un ancien entrepôt de fourrures à Griffintown, La boutique, qui présente des collections diverses, dont certaines créées par des designers montréalais, accueille également le Marché West Elm, qui s'inspire du magasin général d'antan.
Source : https://www.facebook.com/westelmMontreal


source: damasketdentelle.com