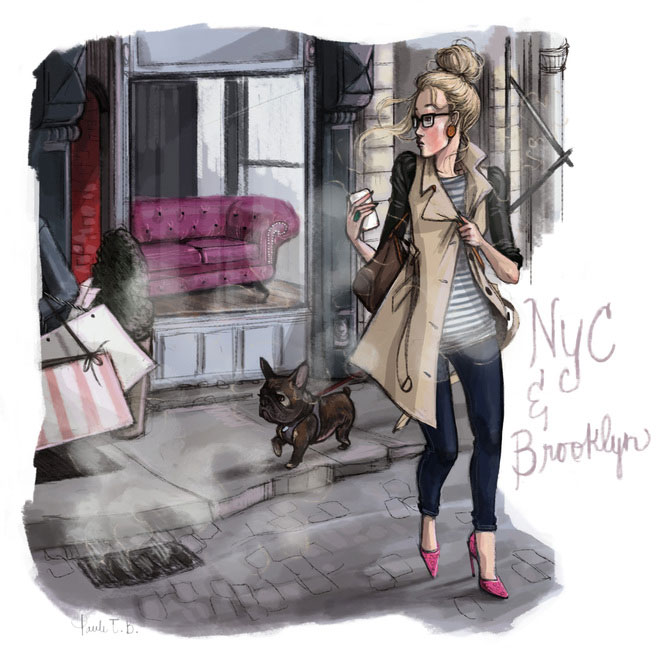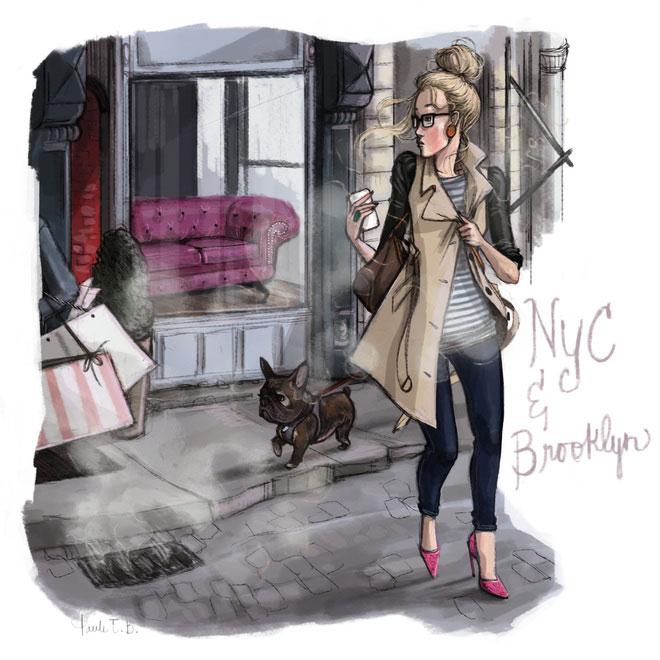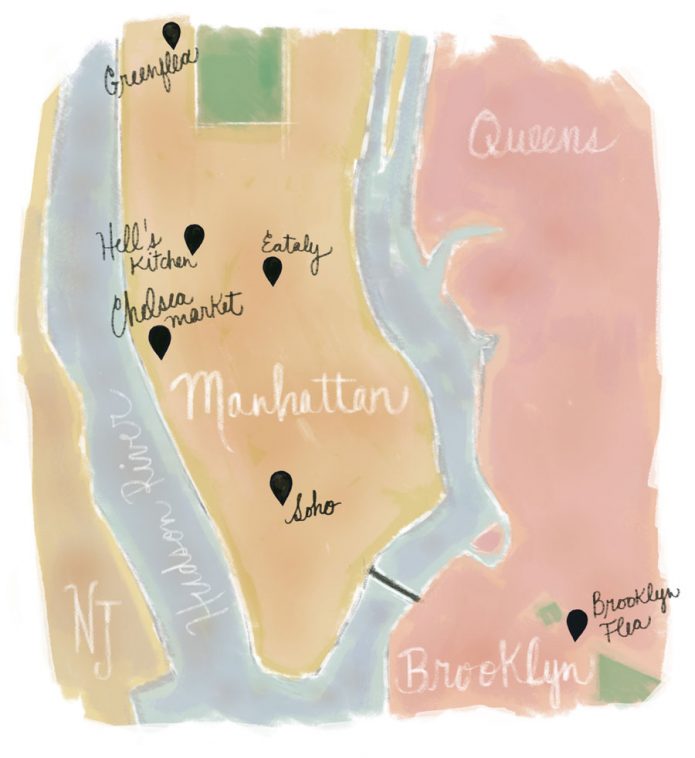 I feel like Ulysse embarking on his Odyssey as I humbly attempt to make my New York city guide. Many guides have been done on the Big Apple and I will not pretend to be able to even begin to wrap my head around everything there is to do and see. Instead, this guide is my own personal little black book. A compendium of the places I keep visiting time and time again as they are my safe places in a city that is so fast paced and energizing.
My love affair with the city has been reignited once more as we visited its most coveted spots with my 8-year-old daughter, Ma'ila, this past Spring Break. I hope this humble guide to be as resourceful to you as it is delightful to me!
Xoxo
v.

A New York City staple in terms of décor, ABC Carpet & Home has the looks of a well curated bazaar of home trends and accessories. One can expect to find here everything from apothecary to rugs, flooring, and accessories. They also have a South Hackensack, N.J., location.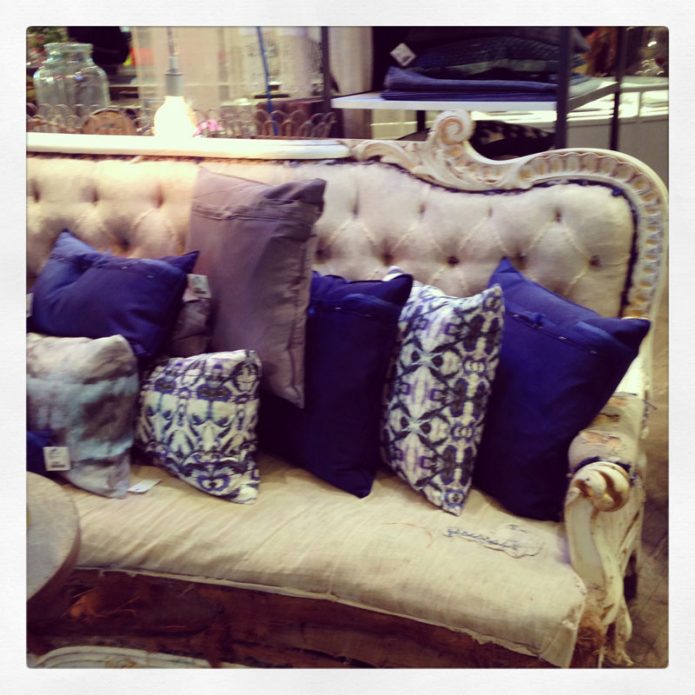 Alright, this place is my mom's treasure chest! You can walk in here with 20$ and walk out with a bag full of trinkets for the home in this SoHo store.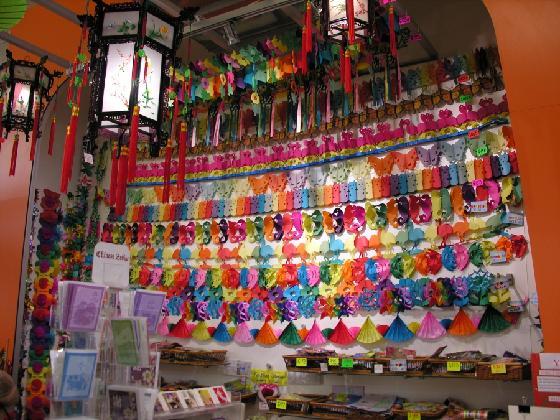 photo: Kaiwenboke
This store is located right in the birth lace of the brand… in Brooklyn. With the adjacent West Elm Market, the shopping experience is well worth the subway ride. Products from local artisans, delicacies (I bought 3 jars of Salty Caramel from Brooklyn's Spoonable), great accessories and furniture infused with the brand's quirky meets industrial style. Check out the Market's Facebook page for all the activities and events.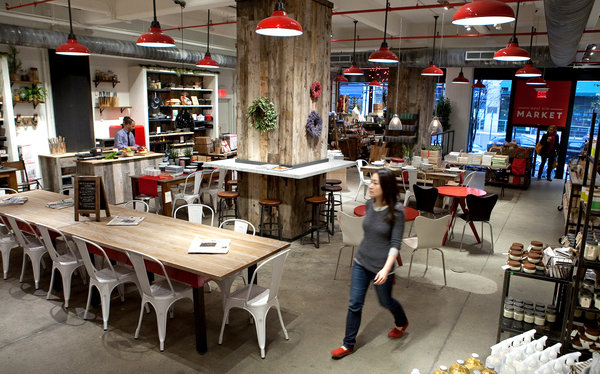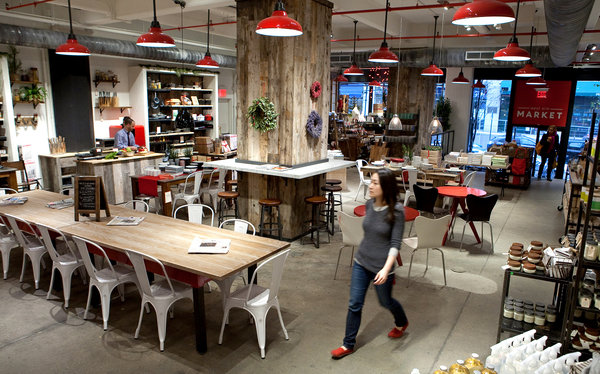 photo: NY Times


photo: West Elm
There are a few Jonathan Adler boutiques around the island, but this is the one I keep going back to. It is small and quaint and I especially like how it lights up in the evening, colorful like a jolly Christmas tree full of mementos that are as colorful as their creator.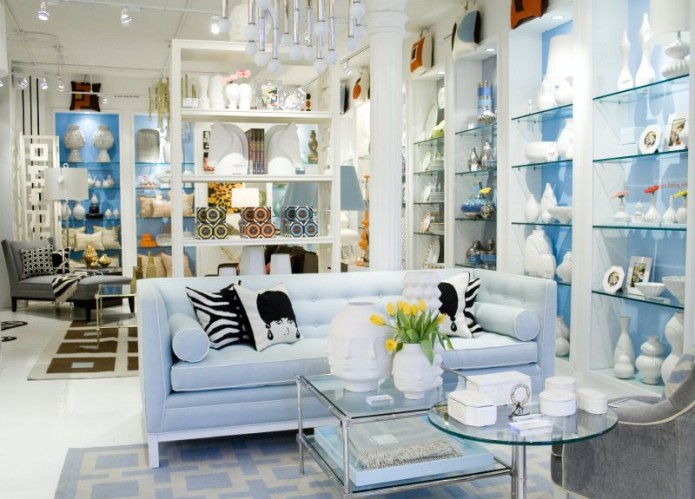 photo: Decor8
I hit many birds with one single stone at the Chelsea Market! I make it a point to visit the market every time I am in the city and I can only explain it with my grumbling stomach. The smell of fresh baking breads, the Fat Witch brownies, the Sarabeth's preserves and of course Anthropologie that offers both their clothing and home lines. Carrying door handles and throw pillows with me all day afterwards proves to be a challenge every time though. Oh well…
A New York interior design mecca, this online store is designed as would a fashionable apartment.

Brooklyn
Brooklyn is the new go-to place for all things vintage with the Brooklyn Flea at its core. This crowded market draws about 250 vendors every Saturday in a unique setting. You'll find here a mix of vintage, handmade and a little new too.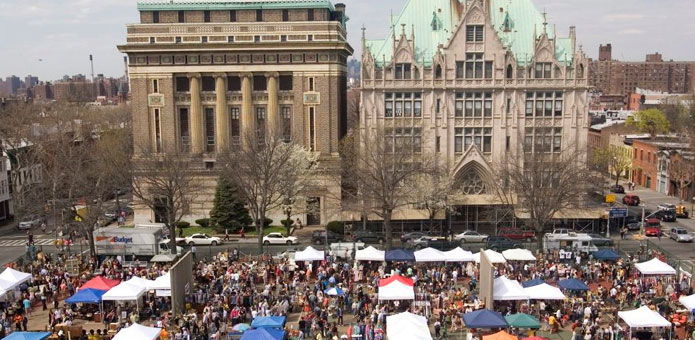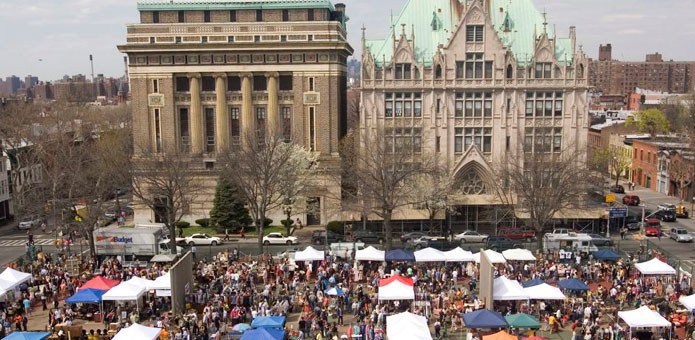 photo: http://www.brooklynflea.com
For the first time since 2009, the Brooklyn Flea's indoor iteration won't be taking over the old Williamsburgh Savings Bank in Fort Greene, but will move instead for the winter to its new indoor digs–a 47,000-square-foot space in Williamsburg. Plenty to look forward to with more vendors, space and great finds!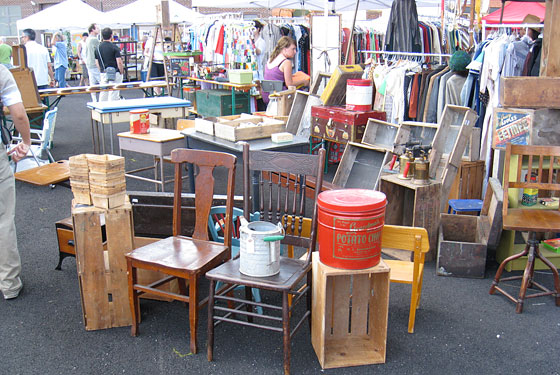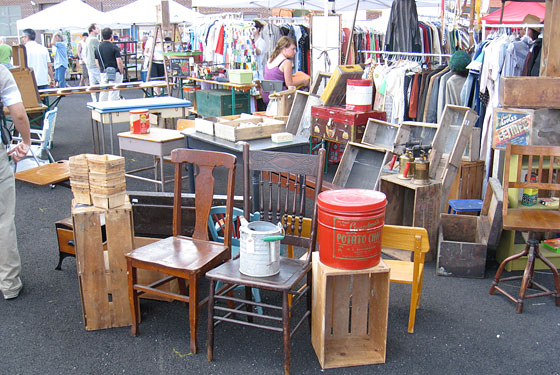 Photo: New York Mag
This Brooklyn design store with mid-century modern furniture, industrial antiques, and novelty items.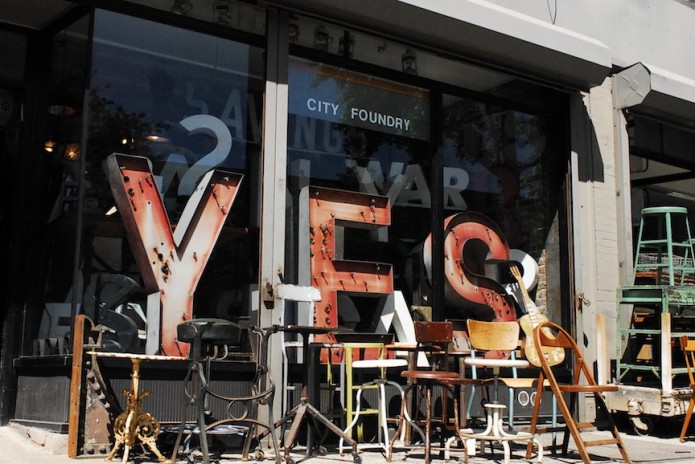 photo: City Foundry
This antiques and oddities shop yields a mixed bag of whimsical accents, vintage housewares, and furniture.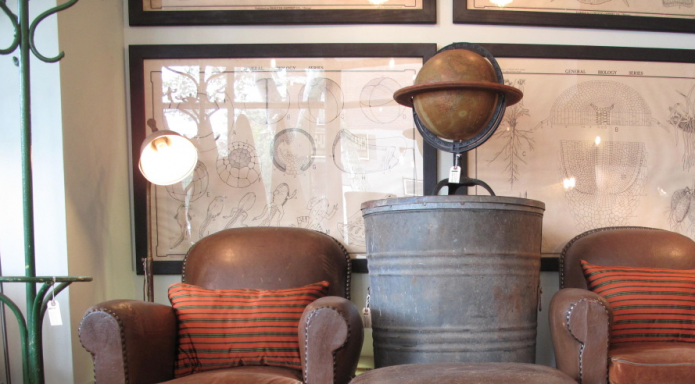 photo: Holler & Squall
RePop combines the overcrowded charm of an old-fashioned Parisian boutique with the promising clutter of a Midwestern junk shop.
Mahnattan
You can find here a mish mash of unique antique fixtures salvaged from doomed buildings from vintage plumbing fixtures, doors, windows, shutters, railings, gates, grills, mantels, to stone pieces & religious artifacts.

photo: NYCgo
Vintage furniture meets modern accessories. No need to visit Manhattan to shop this boutique as their website is completely transactional. Gotta love that!
New York based designer John Derian's very own boutique of curated vintage finds and new accessories too. If you love his relaxed style, you will adore this store. Not able to make it to the Big Apple? No worries, shop online.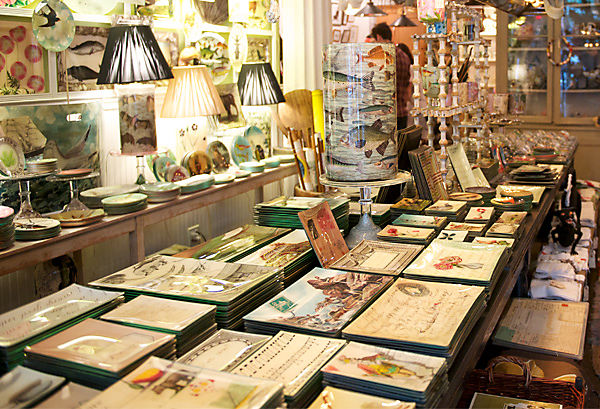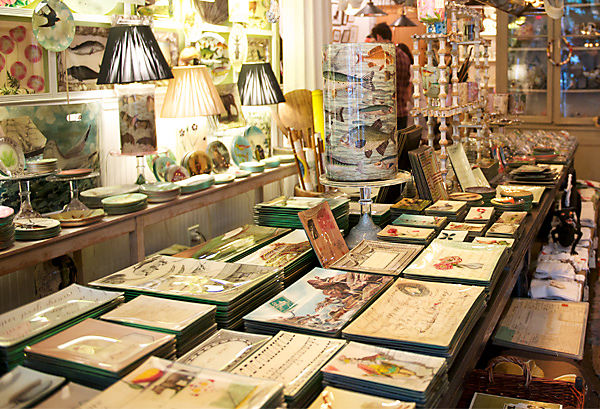 photo: One Kings Lane
Hong Kong based Modernlink now has a Manhattan address where to find Danish restored vintage furniture as well as original designs with a definite Scandinavian essence.
With 4 locations in New York only, Olde Good Things is a vintage lovers candy store! From architectural salvaged items to oddities such as old theater seats and lighting signs, though it is not the least expensive place to shop, I still make it a point to visit this store whenever I am in the city. The Chelsea location is my favorite!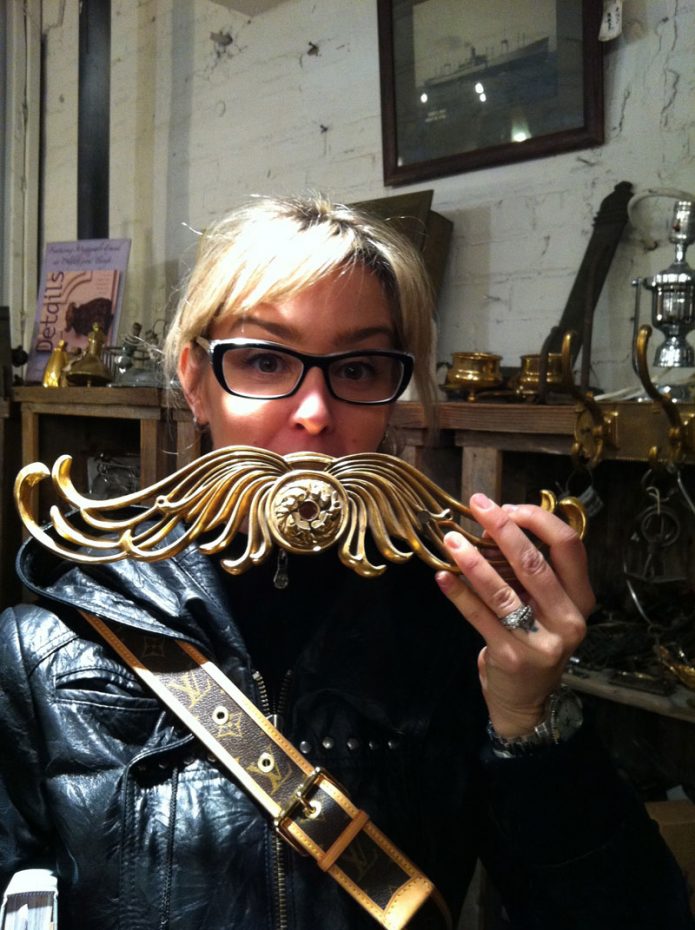 They say it best…They are the home to the most famous outdoor urban flea market in New York. I found a great street light that I transformed into a suspension for my living room, a Kilim rug that I paid 75$ only, great old vintage sunglasses and vintage rulers that I collect for no particular reason at all.
"The West 25th Street Market features up to 125 vendors selling antiques, collectibles, and other types of vintage and mid-century modern items." I love how urban this Flea Market is, niched between buildings in the heart of Hell's Kitchen.
Open on Saturdays & Sundays
Literally located in a garage structure, this market is surprisingly large with more than 100 vendors of everything from jewelry, handbags, fabrics, rugs, and furniture, to clothing and silverware.
Open on Saturdays & Sundays
Combining both antique/vintage collectibles and new handcrafted items, it is a ideal place to look for something different to give or to keep.
Open on Sundays.

Pastis is a French bistro located in Manhattan's meatpacking district and it is my go-to place for hearty Provençal dishes. The bar serves a range of house cocktails, wines by the glass, carafe or bottle, and several varieties of pastis (of course!). Word of advice, make a reservation a while before you leave for the Big Apple as this restaurant is always very busy. After dinner, cross the street over for a drink on the rooftop bar of the Gansevoort Hotel.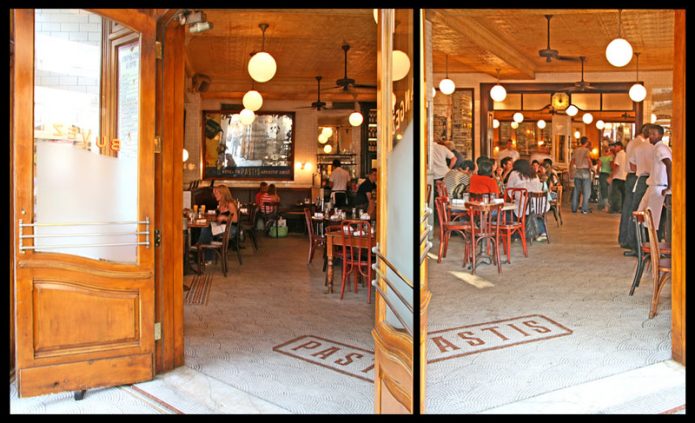 Source: New York Daily
In this Alice in Wonderland meets Downton Abbey styled restaurant you are bound to meet a celebrity or politician sitting in a corner of the green house or of the overly decorated main restaurant. I went there on a date with my husband, and despite the fact that we were both exhausted from having driven to the Big Apple (and being parents to 3 young kids) we managed to have a dinner we will never forget. Not for the food really, although it was good, but for the incredible ambiance that prevails here.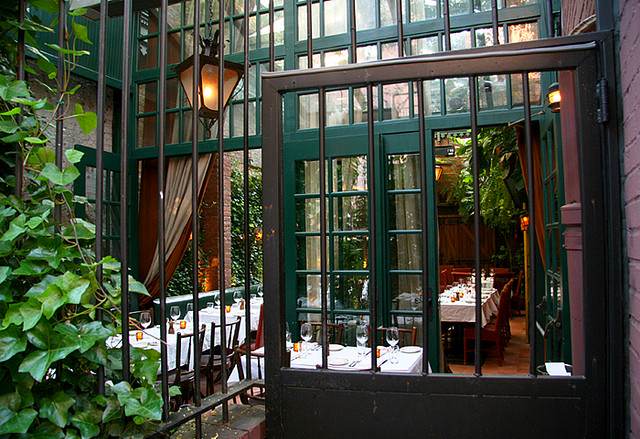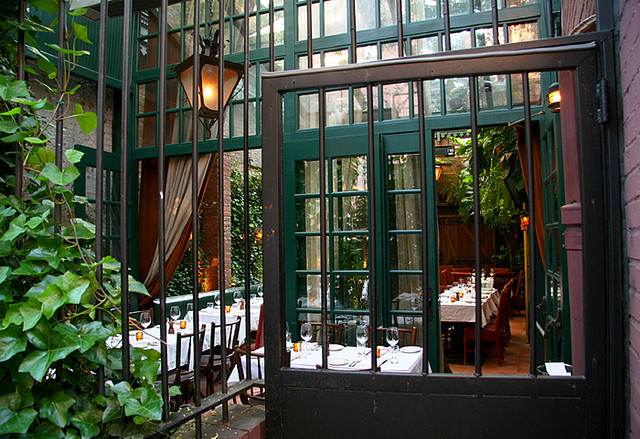 Source: Gothamist
Alright, this place is ALL about the food! Try the hot flashed squid with chorizo and shishito peppers, or the double cut pork chops with white polenta and fig jus and a Coles burger "Pat LaFrieda Blended style". Fries come with delicious garlic mayo (and all who know me know that I cannot resist a good mayo!)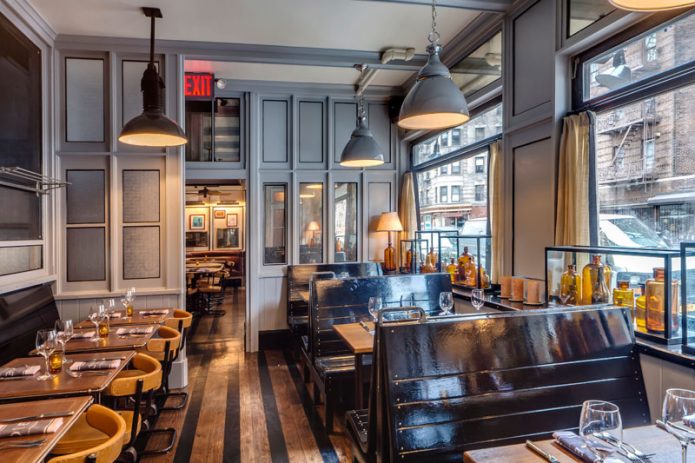 source: Coles
ser·en·dip·i·ty The occurrence and development of events by chance in a happy or beneficial way. Happy indeed it is to visit this Manhattan staple. Their world famous hot chocolate is a meal in itself and was a great delight to my 8 year old daughter.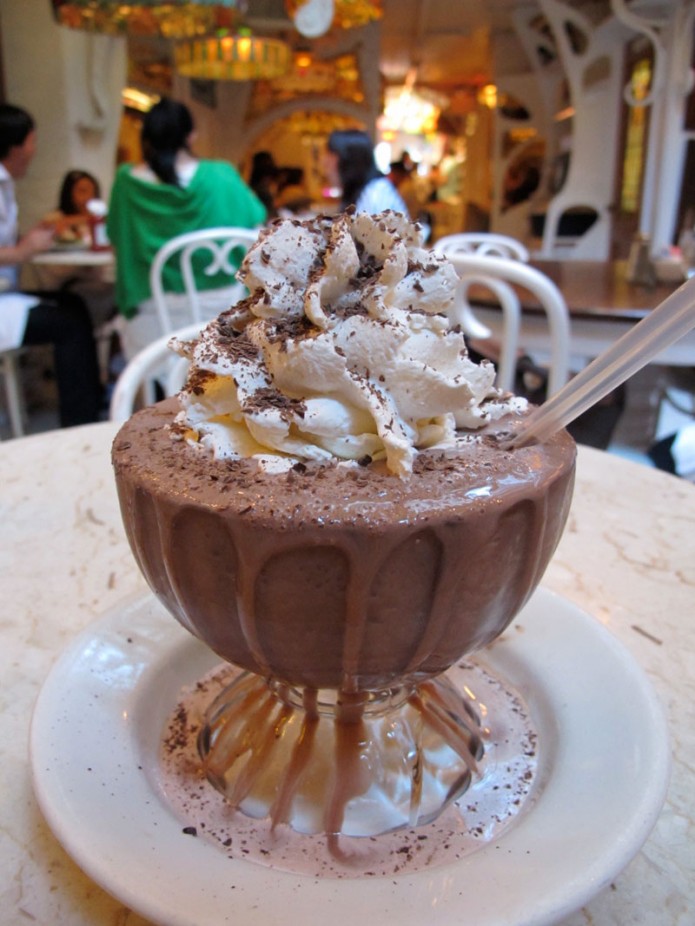 source: Table Hopper
With now over 10 locations, Sarabeth's is THE place for breakfast for me. I cannot resist their aptly named Fat & Fluffy French toast with fresh strawberries and I never leave without a few jars of preserves weighting down my purse.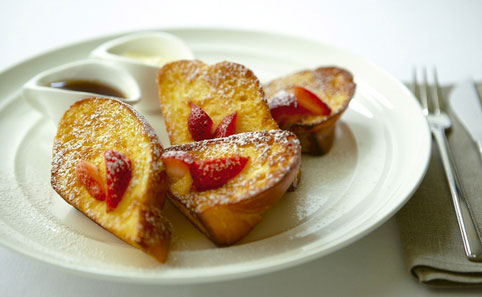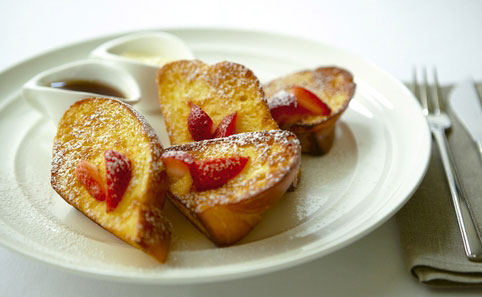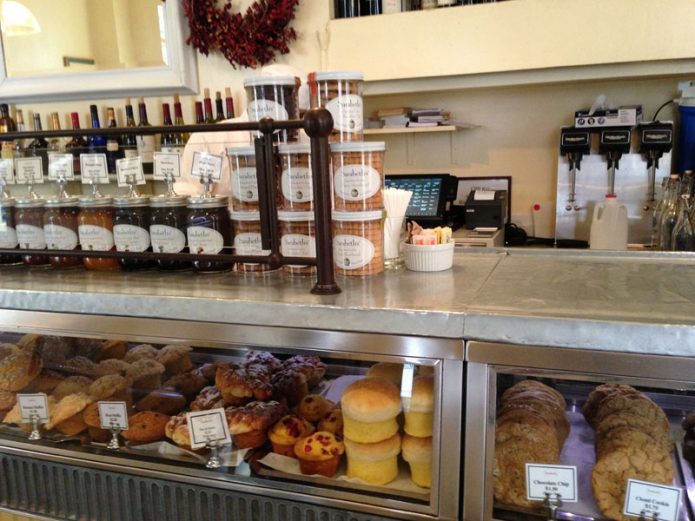 source: Sarabeth's & Vanessa Sicotte
A market style cafeteria where counters sell everything from Cannolis to sausage and delicious Espressos. At lunch time, the hustle bustle of the working crowd makes Eataly come to life and feel like a busy street in Rome.
——————————————–