illustration by Meagan Morrison
Ville lumière, Paris is the capital of style, the city of lovers and the mecca of antiques shopping. In 20 destinations, here is a guide to one of our favourite city in the world. Bon voyage!
Hôtel Costes
Hôtel Costes is a star-studded hot spot for jet-setters and chic hipsters alike. The lounge boutique hotel described as a "hip neo-palace" inspired a generation of new generation classic hotels with cozy salons, dim-lighting, velvet tufted sofas, chintz canopies and ornate architectural detail. The hotel is known for its live DJ sets. It also houses a perfume shop filled with signature scents, and a florist that exclusively sells roses for all occasions. It's a meeting of the times, blending old school tradition with a hip youthful attitude.
Le Royal Monceau
source: Vogue
Le Royal Monceau is a place to see and be seen. This Parisian institution re-opened after a two year remodel led by Philippe Starck. It features two Michelin star restaurants, elegant lived-in interiors, a world-class spa and a smoking room upholstered entirely in supple red leather—among other things. If nothing else, spend an evening nibbling on fois gras lollipops or caviar & blinis while sipping on their signature cocktail—the Singapore Sling—in le Bar Long.
Hôtel des Académies et des Arts
Nestled on a small street in the 6th arrondissement, just a stone's throw away from les Jardins du Luxembourg, l'hôtel des Académies et des Arts is tiny, charming and approachable. The rooms pay homage to the artists who once lived in this part of the Rive-Gauche: Modigliani, Gauguin, Giacometti… A perfectly charming and affordable option for budget travelers for amateurs of La Rive Gauche's edgy vibe.
Caffè Stern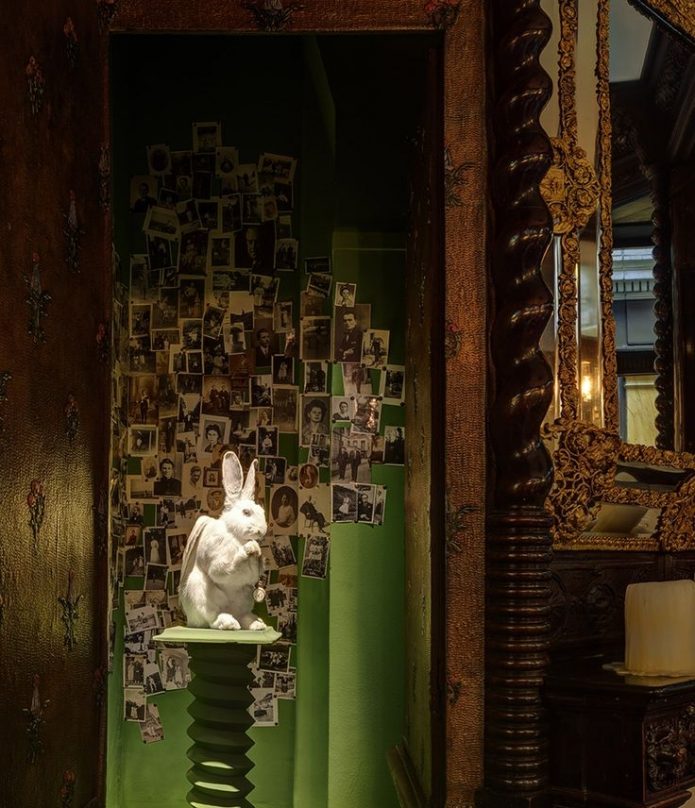 source: Starck + Caffè Stern
For an unforgettable experience, stop by Paris' newest Philippe Starck designed hot-spot—Caffè Stern. Nestled in a "passage" off Les Grands Boulevards, you enter Caffè Stern by walking past a taxidermied lynx and coyote, each sporting diamond necklaces. From there onwards, anything goes: the waiters might shake you a tableside aperol without asking, talk you into ordering the entire tapas menu, rock your sunglasses and a costume top hat while telling tales of old-world Italy. One thing's for sure, you won't get bored.
Le Comptoir du Relais
I once witnessed a staggering Eric Ripert (chef of the famed Le Bernardin in NYC) get into a fistfight with a patron at this institutional restaurant. Moral of the story: chefs eat at Le Comptoir, so you know it's bound to be delicious. The fare is traditional French bistro immaculately executed. For dinner on a week night, you'll have to reserve many weeks ahead—but on weekends, it's a bistro "first come first serve" setting. Arrive very early, and order a glass of wine and a few cold cuts from L'avant Comptoir next door as you wait in line. Yes, you may drink on the street in Paris.
Bones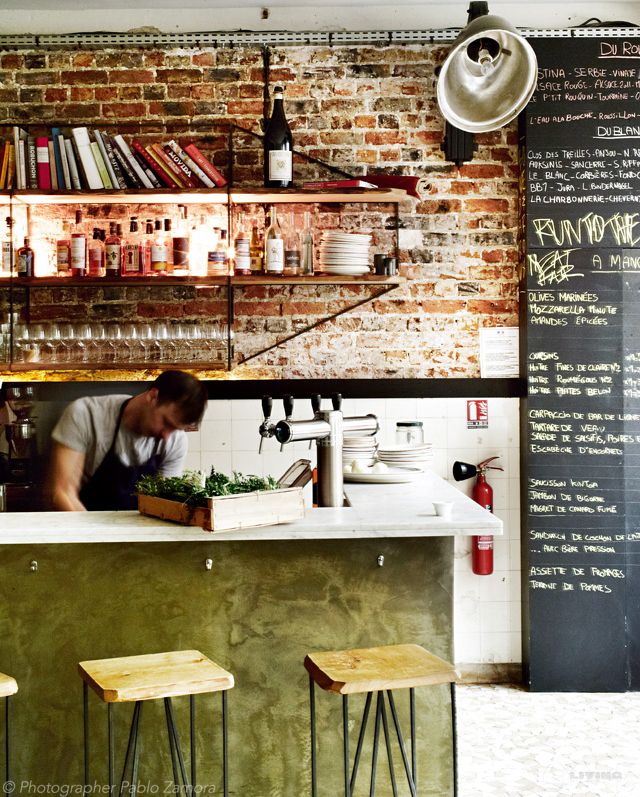 source: Vogue
One of Paris' latest hot spots, a neo-bistro serving a French meets Japanese market cuisine (by an Aussie chef) in a lively but raw atmosphere. For a late-night bite, opt for the comptoir at the front of Bones serving wines by the glass with a raw bar of oysters, fish or house-made charcuterie.
Le Clos des Gourmets
You won't bump shoulders with jet-setters or celebrities here— but for a classic neighborhood bistro that serves mouth-watering meals in a familiar but elegant setting, Le Clos des Gourmets is your place. Located a stone's throw away from La Tour Eiffel on Avenue Rapp, this unassuming local hot-spot offers a generous three-course menu at a very reasonable price for Paris standards. Reserve ahead.
Ralph's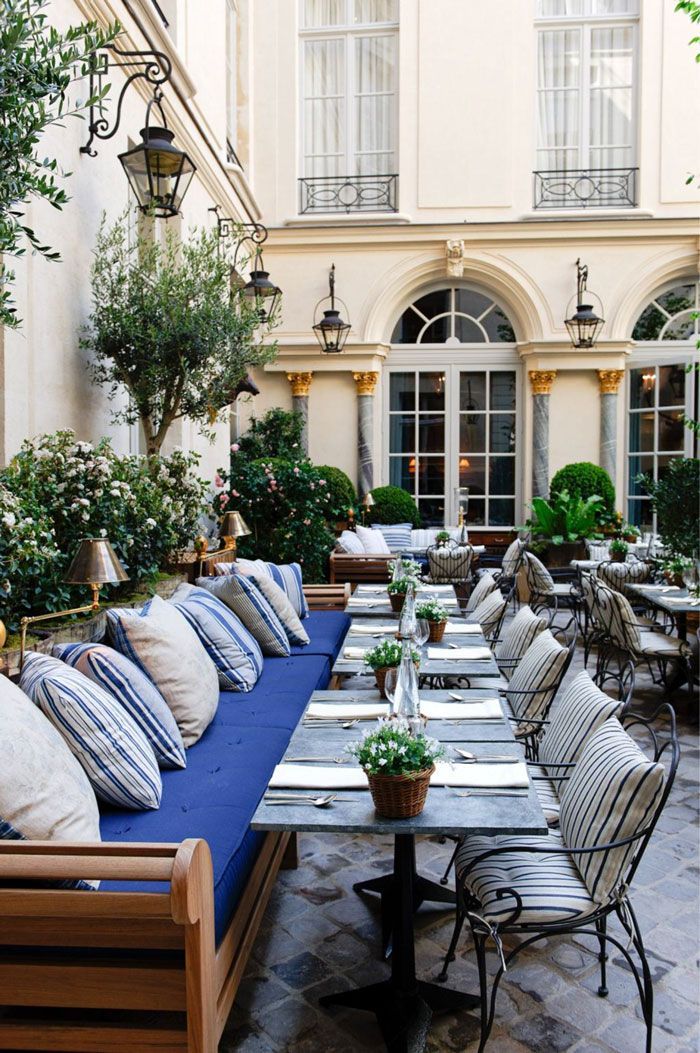 source: Ralph's
Don't advertise too loudly that after one too many tartare de boeuf, you're actually craving a hamburger with fries—but if you find yourself in this situation, just know that there's a haven of luxe American fare in the heart of Boulevard Saint Germain. So after a long morning of shopping in the 6ème, unabashedly melt away in the oversized outdoor sofas on Ralph's terrace while chipping away at a classic New England lobster roll.
Merci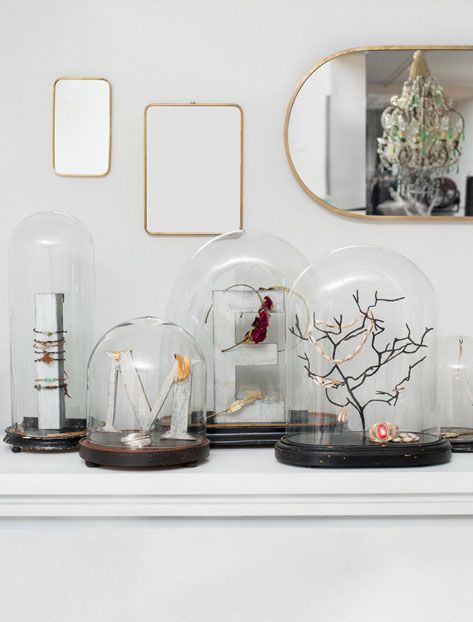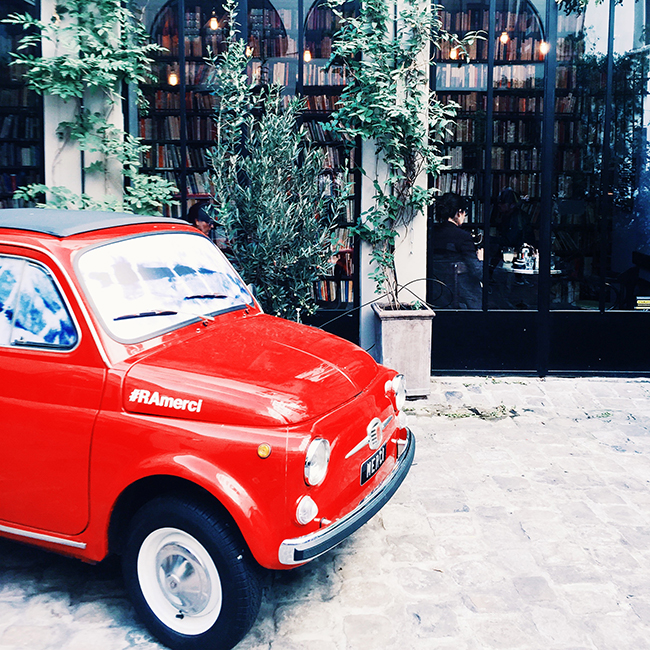 source: Merci & Savvy Home
Start your obligatory wandering day in Le Marais at Merci—Paris' answer to a hipster department store. This upscale Anthropologie meets ABC Carpet & Home is a multi-story boho-chic haven housing three cafés, a book store, emerging fashion brands, vintage furniture and contemporary creations. Be careful, the space is so enchanting you just may find yourself forking out 1,500 € on a Jérome Dreyfuss leather jacket before you have time to say "Merci".
Cuisse de Grenouille
Anyone who knows my love for the boho-beach lifestyle and surfing culture will immediately understand my love for this paradoxical urban surf shop. Cuisse de Grenouille's address rue Froissart sells anything from their eponymous line of clothing and scented candles, to Pelle soap stones and skincare products by Baxter of California. They'll even serve you the best coffee in town by Café Coutume. Grab a souvenir "Surf in Paris" sweatshirt and you can expand your "Surf in Cities" collection next time you're in Montreal, New York, The Hamptons or  Tokyo.
Le Labo
source: Mzelle Fraise
It's no secret that I collect scented candles, and Paris is the capital of parfumeries, which in turns makes it my ultimate destination for olfactory experiences. This pilgrimage of the senses starts at Le Labo, where you can create your own scent, or simply delight in their turn-of-the-century industrial design while filling your basket with Santal 26 or Rose 31.
Astier de Villatte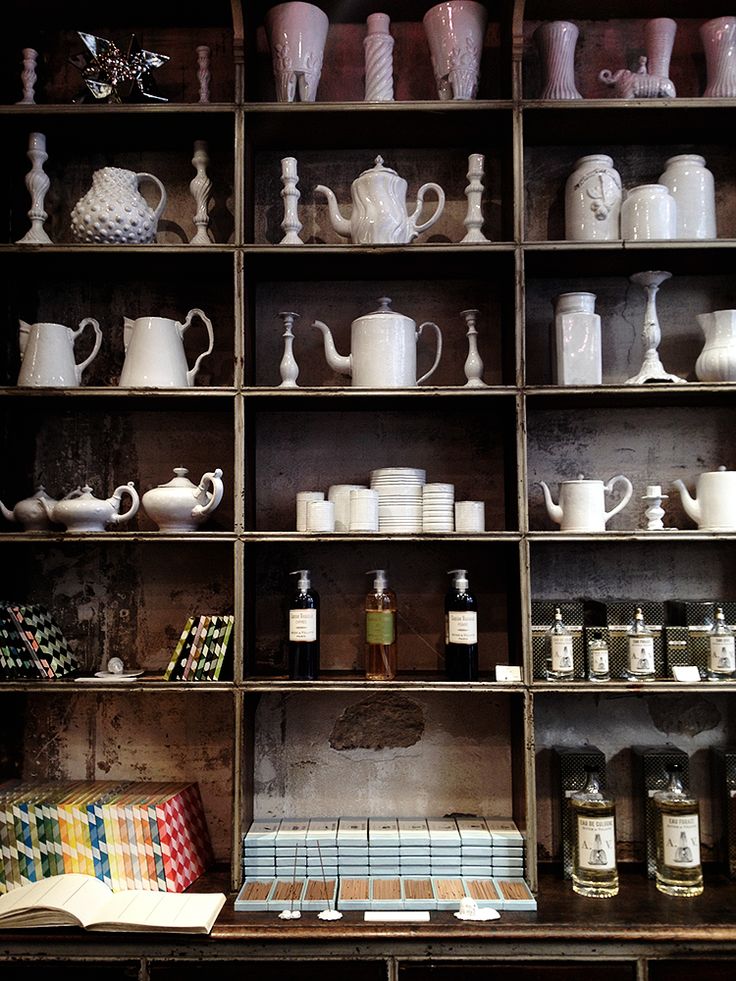 source: Lingered Upon
Astier de Villatte is another must in your "pilgrimage of the senses". Best known for their handmade pottery made out of black terracotta clay, A.D.V. also famously fill these charming potteries with scented wax, creating candles that each represent some of the world's most exotic destinations: from Alger to Yakushima. Find your own scent at this quaint shop where handmade dishware is stacked to the ceiling—mine is Québec.
Le Bon Marché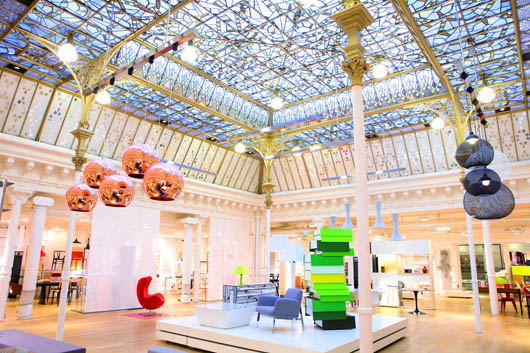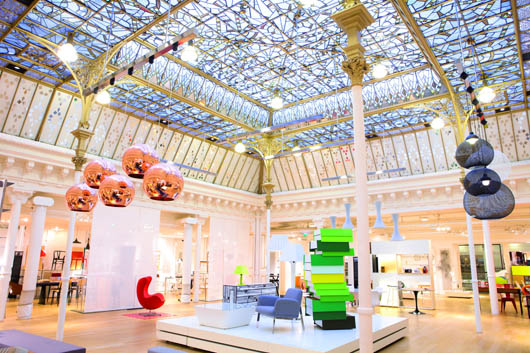 source: Trendland
Paris' answer to Barneys NY: a immaculately curated multi-story luxury department store and the oldest one in Paris. La Rive Gauche's only department store, Le Bon Marché houses all the best French designers, from the classic Chanel and Yves Saint-Laurent to the more avant-garde Maison Kitsuné and Band of Outsiders.
La Grande Épicerie de Paris
La Grande Épicerie makes Whole Foods seem like the decently stocked food mart of a suburban gas station. All senses are heightened upon entering this vast culinary Disneyland. Stop at the sushi bar for a quick pick me up, sample the best cured meats and cheeses at the multiple specialty counters, salivate in front of their pâtisserie, or get lost in their wine cellar. You'll never want to grocery shop anywhere else.
Le Hibou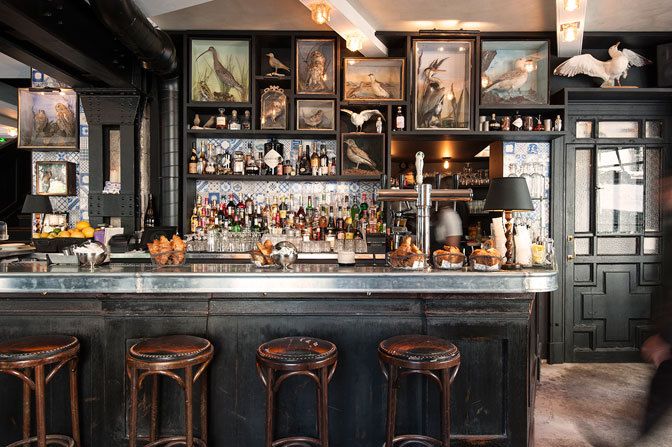 source: Le Fooding
If you've always dreamed of sitting at a Parisian café and sip a glass of rosé at the end of a successful shopping expedition while watching elegant passersby go about their daily routine, Le Hibou is your spot. Located just a few steps from le Théatre de L'Odéon and right across the street from Le Relais Saint-Germain, Le Hibou is just a notch above your average Parisian café.
Café Chic
Because finding a bar that's open past 11pm on a Sunday or a Monday in Paris is near impossible, you need to know about Café Chic. Recommended by the concierge at the Royal Monceau (who called 25 places before finding this one), Café Chic is a warm sexy festive hideaway next to the Bristol where well-travelled foreigners bump elbows with elegant locals. Perfect for a nightcap.
Centre Pompidou
If you only have time for one museum during your stay in Paris, skip the lines at Le Louvres and find your way to Centre Pompidou in Le Marais to admire Europe's most significant modern and contemporary art collection. The architecture in itself is worth the detour; a landmark structure made of color coded tubes (a photo-op not to be missed). Plan to get there on a sunny morning, as you'll definitely want to head up to Georges for lunch, their rooftop restaurant offering one of the most strikingly beautiful views of Paris.
Les Puces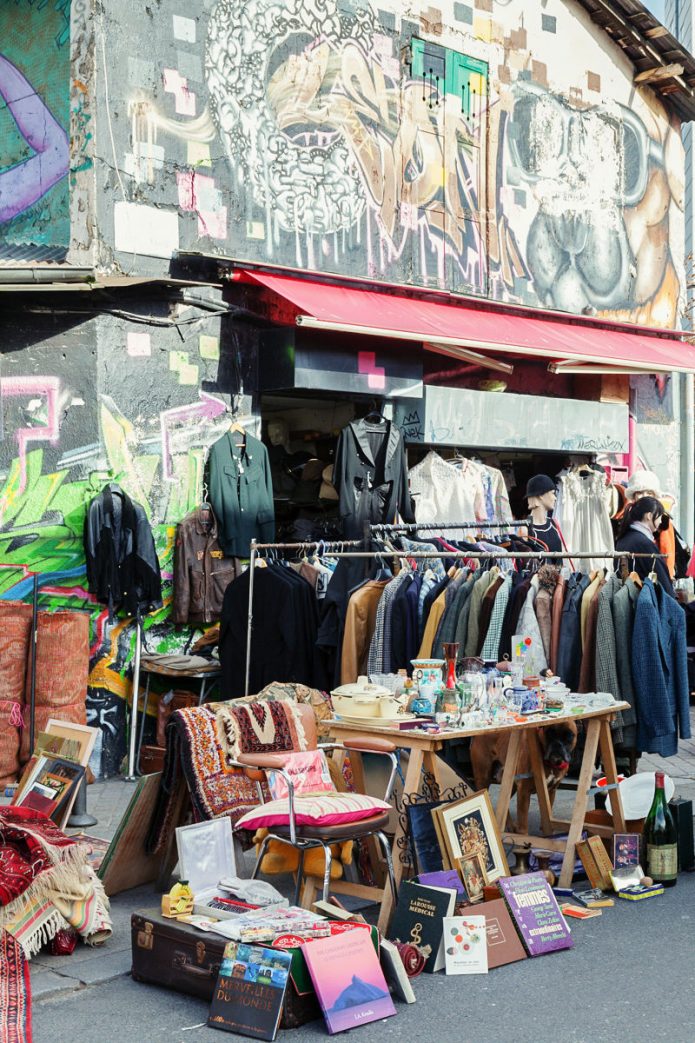 source: The Every Girl
Any design aficionado needs to experience Les Puces de Saint-Ouen at least once in their lives. This unassumingly titled "flea market" covers seven hectares and is the largest antique market in the world. Head there early on a weekend morning as it gets more crowded by the hour—and plan your visit ahead because you won't be able to see it all!
Le Canal Saint Martin
If you feel like you'd rather poke your eyeballs with a fork than spend another second on Les Champs-Élysées, Le Canal Saint-Martin is the place for you. This local hot spot is nestled far far away from tourist buses and stomping crowds. Yet, this up-and-coming neighborhood is home to many cafés and shops and restaurants (most notably, Le Verre Volé, a well-known hole-in-the-wall restaurant popular among Parisians). Make sure to head there in time for sunset and bring a bottle of champagne—you'll want to sit on "les rives du canal" and sip on a glass while watching the locals at their most natural.
Galerie Perrotin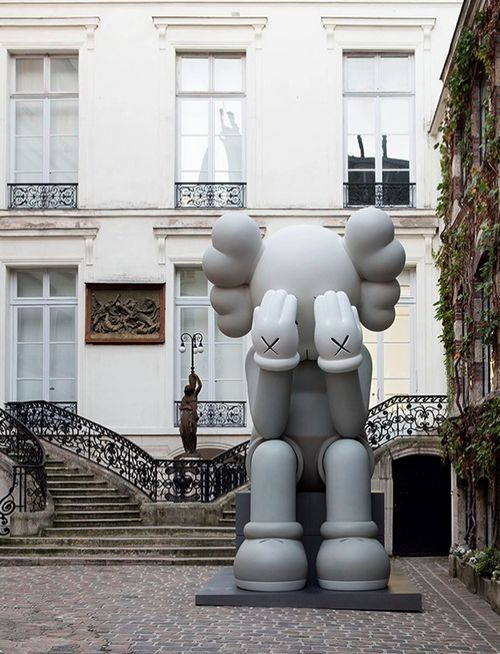 source: Imperio Vida
Gallerist Emmanuel Perrotin famously launched Damien Hirst's career and turned Takashi Murakami into a superstar of the art world. He represented famous artists like Maurizio Cattelan and Sophie Calle and has collaborated with Pharrell Williams among other musicians. His two-floor gallery in Le Marais is decidedly avant-garde and the most notable you'll want to visit while in La Ville Lumière.
source: Charlotte Tilbury