Friday, April 6th, 2012
Oh what a week it has been. Projects that I have been working on for over a year are starting to take shape all while taking me completely out of my comfort zone, the web directory of Damask & Dentelle is going stronger than ever with a new record high page view count in March, a new blog on Sweethome, and my 3 year old daughter is starting ballet classes! But besides a now permanent state of sleep deprivation, I can honestly say that I am very blessed by all that's happening and that I truly have created myself my dream job. Now about the dream home…
In the April issue of Architectural Digest, Brad Goldfarb writes about the East Village duplex penthouse he shares with Alfredo Paredes, an interior designer for Ralph Lauren. Just with that as a premise, I knew I was in for a treat.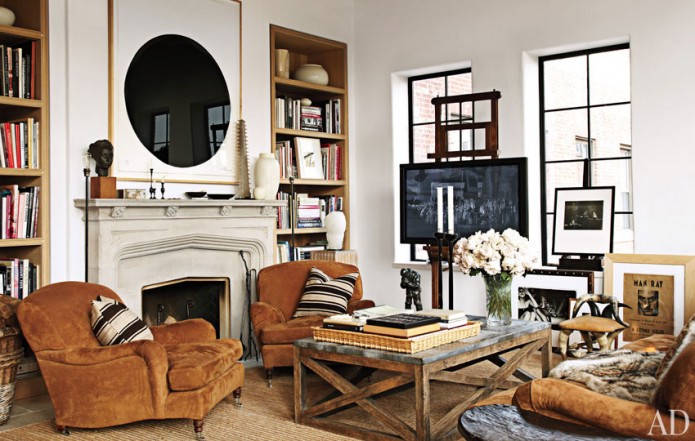 The 2 500 sf home underwent a massive transformation (read: gut job) to expose and bring out the full potential of the immense terrace and high ceilings. "They added double doors with arched transoms and a timber ceiling to the living/dining area, which features a table by Lucca Antiques, a suite of vintage Tolix chairs, and a Spanish wrought-iron lantern from Gustavo Olivieri." -AD
Alright, enough with the educated description and keen observation of details and let me just GASP at this house!!!! I mean really?? Look at this place.
Part all-American boy club, part rustic farmhouse, part 1920′s Manhattan glamour, this pad is anything but a "man cave". I love how the colour palette is consistent in shades of neutral and how it is brought to life by the juxtaposition of textures and patterns.
Now that the dream job part and the "oh so lovely" kids are checked on my bucket list, maybe this home could get pinned on my fridge as a daily reminder of things to strive for. Hummmmm I can see it already: the family, the big Apple, the book deal and syndicated TV show … ok I am dreaming now, but hey it doesn't hurt anyone to do so right?
Happy Easter & Happy Passover bunnies!! Thank you for your support.
xoxo
V.
Source: AD